JUDITH ANN MOGAN FOUNDATION GRANT CYCLE
YEAR ONE
The year 2021 was a very exciting time for all of us at the Judith Ann Mogan Foundation (JAMF).  The Board of Directors and staff articulated the guiding principles that would direct our future efforts and enable us to fund our first grant cycle.  We felt it was important to begin funding community projects in 2021.
Rooted as we are in the Southwestern Oregon Coast, the Foundation's Mission Statement grew naturally out of the realities and needs of our communities.  We identified our mission:  Develop successful citizens and vital communities. This mission statement then guided us in identifying the priority areas that the JAMF would fund for its first grant cycle:  Children and Youth Development, Forestry & Wood Products Support and Research, Enhancing Community Health Services, Poverty Alleviation, Business & Economic Development, and Convening and Gathering Places.
The needs of the Southwestern Oregon Coast communities were pressing, especially with the ongoing Covid-19 pandemic.  So many projects were postponed to respond to emergency situations.  This reinforced the importance of getting JAMF's first grant cycle out in 2021.  Exploratory meetings between the JAMF Board and local organizations were conducted to determine the specific needs in the community. These meetings provided insights on what projects were in the works, planned, and which would fall within the priority areas of the Foundation. Organizations with projects that supported JAMF's priority areas were invited to submit an application at the end of May. A total of 31 applications from 25 organizations were received by the first week of July. After a month and a half of review, the Grant Making Committee of the Foundation approved 25 projects from 19 organizations.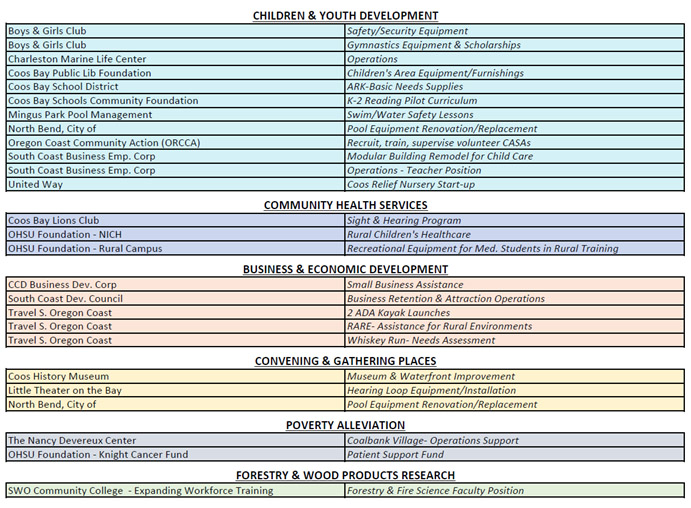 Grantees received anywhere between $10,000.00 and $375,000.00 spread over the different priority areas. The total amount awarded for 2021 Grant Cycle was $1,729,748, which included two (2) multi-year projects, and one project deferred to 2022.  Actual amount disbursed by November 2021 to 25 projects was $1,478,248.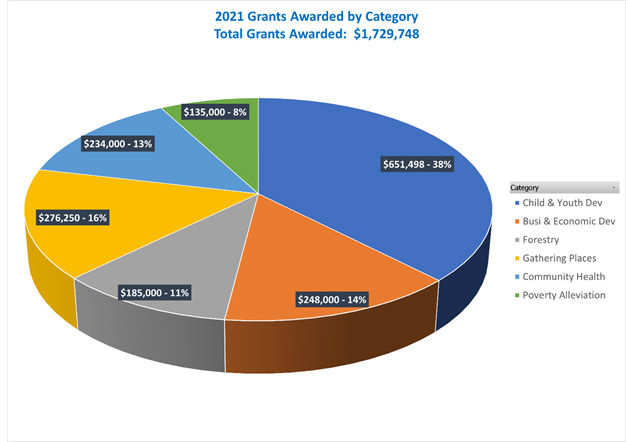 The Grant Making Committee and Board of Directors of the JAMF delivered the first cycle of grants to Southwestern Oregon Coast communities and organizations in October 2021. With the first grant cycle successfully completed, JAMF is set to continue its efforts to partner with local organizations that directly benefit our communities.  We look forward to strengthening our mission to develop successful citizens and vital communities through direct support and strategic partnerships.
Check out a few of the media coverage for some of our 2021 Grantees below.